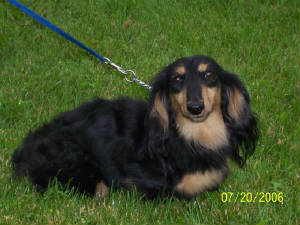 DEPOSIT
I require a deposit of 25% of purchase price of puppy to hold a puppy. Puppies are held on a first-come, first-served basis.
The deposit is non-refundable.
The deposit comes off the total price of the puppy.
I will accept a personal check for the deposit but the final payment when you pick the puppy up must be made in cash.
I can accept paypal but however when using paypal, there is an additional charge of 4% to cover the service of paypal. So for a $100 deposit by paypal, you would have to pay $104.
Payment in full including shipping MUST be paid by 6 weeks of age if your puppy is being shipped. Puppies will not be permitted to leave, either by pick up or by being shipped, until all payments have been made and have CLEARED. NO EXCEPTIONS.
SHIPPING
Shipping is available for approximately $250-$300 as long as weather permits. This charge covers the cost of the vet visit for the health certificate, the carrier, and the flight. Some airlines may charge more.
All flying expenses are the buyers responsibility. I will make all the flight arrangements for you. All you will have to do is arrive on time at the airport to pick up your new little bundle of joy.
I ship out of Toledo Airport.
If your puppy is being shipped to you, I must receive the final payment by money order or certified check 2 weeks prior to shipping.
Availability of shipping depends on weather.
I am willing to meet anyone within an hour from my home at no additional fee or further for a fee if you are going to pick-up your puppy & not have it shipped.
Puppy guarantee and return policy.
Once you pick-up your puppy, you have 48 hours to take it to a vet to be examined. If at that time, the vet says the puppy is a health risk for any reason, you can bring the puppy back for exchange. If you pick a puppy with a higher purchase price for your replacement, you must pay the difference. If you do not take your puppy to the vet in the first 48 hours, the rest of the guarantee is null and void.
Any expense of returning the puppy is your responsibility.
A written statement from the vet stating the reason the puppy is a health risk must accompany the return of the puppy.
Policy
Before going to their new home, our puppies are up-to-date on vaccinations, wormings, they come with a health record, 5 generation pedigree, puppy starter pack. All pet puppies are sold on AKC limited registration, have a health guarantee, and are to be spayed/neutered by the age of 1 year (unless prior arrangements have been made).
Our puppies come from some of the top bloodlines in the U.S.

Returns
If at anytime the buyer cannot any longer care for a puppy/dog, it is to be returned back to me. Under no circumstances do I want any of my puppies ending up in a dog pound or rescue.
When I place the puppy/dog, I will send you any money I received for the puppy/dog, less any expenses I incurred in the placement.